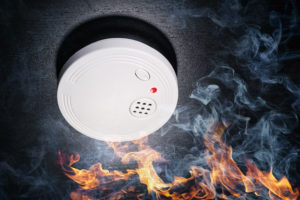 Are You Alarmed?
Smoke alarms. We know what they look like. We (hopefully) know where they're located in our homes. But the question is: Do we know that they'll work if there's a fire?
Smoke alarms are an essential component of every home.
According  to the US Fire Administration, winter home fires make up a large portion of overall residential fire casualties. As commercial and residential Property Inspectors SkyTech want to ensure that all homeowners understand the importance of smoke detectors in every structure.
Below are some tips from essurance and the U.S. Fire Administration on keeping your home safe from fires.
Smoke detectors can help protect you and your family in the event of a fire, but they need proper maintenance to work. Here are some tips for keeping your smoke detector running:
Test a smoke detector monthly by pressing the test button. If the detector chirps, then it's operational. Set a regular date on your calendar every month.
Replace smoke detector batteries once a year, even if you still get a positive battery response when you test it. A great time to do this is during spring cleaning.
If your smoke detector does not emit a positive test tone after putting in a fresh battery, replace the detector.
Replace your smoke detector once every 10 years, even if it passes the chirp test. Write the installed date on a piece of masking tape and stick it to your detector for easy reference.
Check your detector for a "replace by" sticker. If you can't find a date, replace it immediately.
Follow all these tips and you can keep your home and family safe!
According to the Residential Fire Safety Institute, over 92 percent of dwellings in the U.S. have at least one smoke detector. That sounds like an encouraging statistic, but it's estimated that one third of these alarms no longer work. This is because many of us either forget to test our alarms or don't replace dead batteries when we should.
Below are some tips from the U.S. Fire Administration on keeping your home safe from fires.
Smoke detector maintenance
While smoke alarms are fairly low-maintenance, they can't be completely ignored. Use these tips to keep them sharp:
Replace smoke alarms every decade. After 10 years, they have a 30 percent failure rate.
Vacuum alarms at least once a year to remove dust, a big contributor to faulty alarms
Replace batteries every year unless you use the long-life kind
Avoid using long-life batteries in older smoke alarms as they could render them inoperable
Install a mix of both ionization and photoelectric alarms. The ionization detectors activate quicker for fast, flaming fires, while the photoelectric detectors respond faster to slow, smoldering fires.
Smoke alarm location
To ensure that you'll hear the alarm and be able to respond quickly, it's a good idea to situate them:
Outside each bedroom area
In each bedroom
On every level of your home
Though cooking accounts for most home fires, you don't want the alarm going off every time you cook, so make sure it's not too close to the kitchen.
New home fire safety
If you're building a new home, the smoke alarms should be powered by the house's electrical system and have backup batteries. Also, the alarms should be interconnected so if one unit detects smoke, all units will sound.
While building codes today are stricter regarding fire safety, some fire officials think newer homes are more at risk compared to older homes. New homes are typically more insulated, which keeps fire from escaping and causes it to burn faster and hotter. All the more reason to make sure your fire alarms are in working order.
Other fire safety measures
Fire sprinklers: To get the facts (and dispel the myths), take a look at the USFA's Home Fire Protection (PDF) to learn why residential fire sprinkler systems are less troublesome than you may think.
Portable extinguishers: You want to place the extinguisher in a spot that will let you escape. Remember, most of us aren't fire experts. While you may be successful in extinguishing a burning pot, putting the fire out on a mattress might be impossible with a small extinguisher. Getting everyone out of the house and calling the fire department should take priority.
Windows: To give you and your family room to escape, experts recommend that windows be a minimum of 5.7 square feet. Height should be 24 inches while width needs to be at least 20 inches.
SkyTech wants to remind you smoke alarms, sprinklers, and extinguishers can help protect you and your home.  But, only if you do your part. Place the smoke detectors in appropriate places. Test them regularly and do regular maintenance on all the smoke detectors in your home. Such a simple step to protect all your loved ones and your property. Take a moment to be sure!
For More Information Follow these Links:
(No mention or link to any business/organization is intended as an endorsement or referral of the organization by SkyTech)