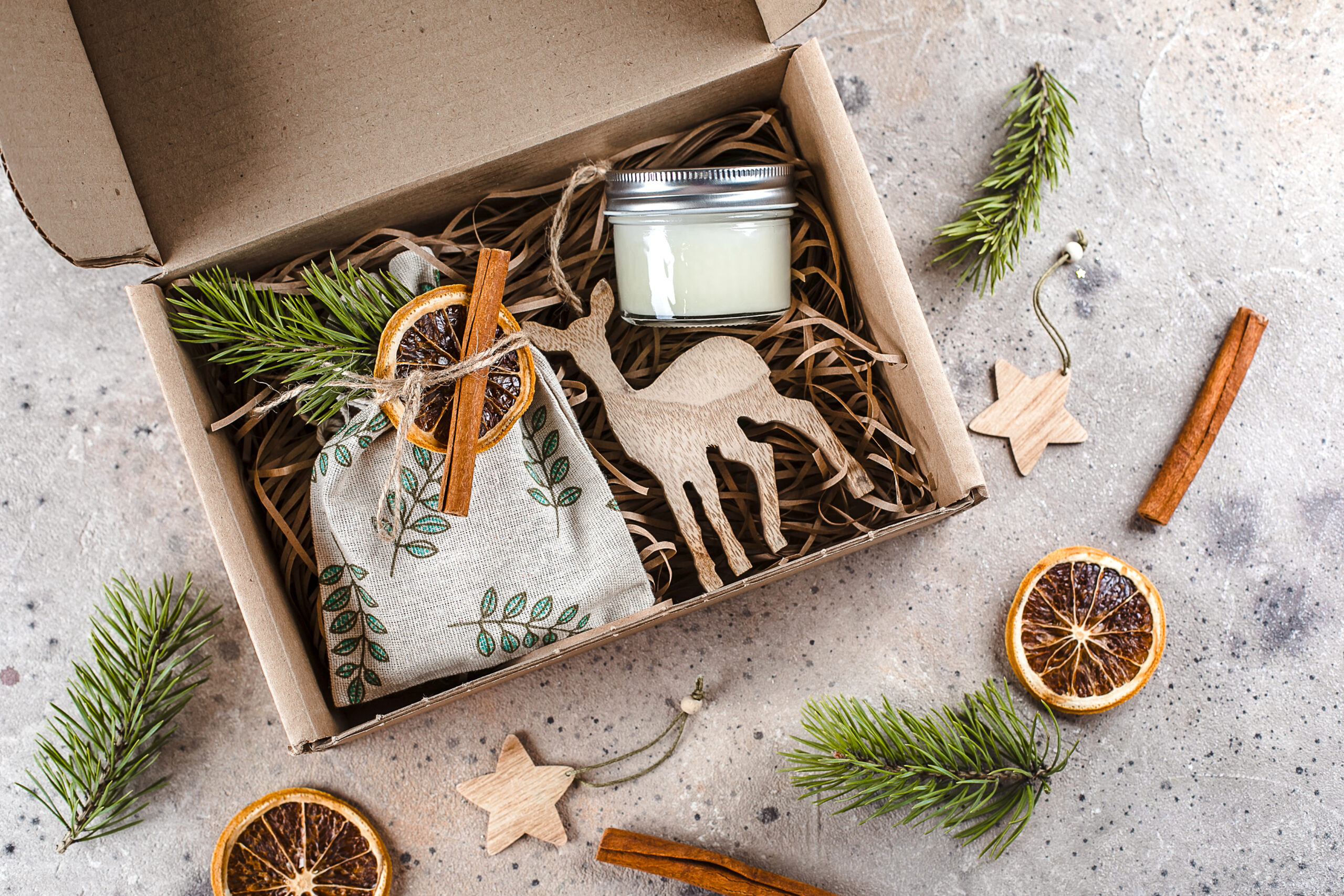 Every year we all know someone who could use a little extra care at the holidays: maybe it's a friend going through a tough time or someone who can't be with their loved ones during the holidays. Or maybe it's a family member who would love a military care package or a teacher or healthcare professional who deserves a big thank-you. A holiday care package is a personalized gift with some extra thought that can really brighten spirits. This is especially true in 2020. Looking for some ideas to show that you care? Maybe it's you that needs a little treat or pampering this year. Here are some inspirations for you. This is especially true in 2020. Looking for some ideas to show that you care? Maybe it's you that needs a little treat or pampering this year. I want to share ideas so we can all care for the people around us this holiday season. Here are some inspirations for you.

Holiday Care Package Basics
A care package can be a box brimming with things you know someone needs or loves. Or the contents can come together to tell a story. Or give your friend all the elements of an experience. Whichever way you go, here are some go-to gifts for holiday Christmas care packages.
Treats: Start with their favorite beverage, cookies, candy, or snacks.
A way to treat themselves: Throw in a gift card to their favorite restaurant, shop, theater, or online service.
Something helpful or useful: Give a holiday wine stopper with that bottle of wine, a pretty plate with cookies, or a cute card wallet with a gift card.
A little comfort: Add cozy socks, a candle with a relaxing scent, or a chunky mug.
Personal touches: Include a gift or keepsake that tells a story or adds a personal touch, like an ornament or picture frame (picture included).
The card: Because there's no better way to tell them how much they mean to you.
Holiday Care Package to Say "Thanks"
Think about all the folks who make your life better and easier all year long: teachers, coaches, healthcare professionals, delivery folks, mail carriers, and your hairstylist. With these ideas, you can say thanks to all of them. These people have worked hard this year under trying circumstances to take care of all of us.
Teacher care package suggestions: Grab a gift card, their favorite treats, a teacher ornament, some good pens and pencils, teacher themed journal books, notepads and stationery, homemade cocoa mix or cookie mix, a good book, a quality teacher themed mask, fun smelling hand soap or hand sanitizer. fuzzy or fun socks, helpful classroom supplies, and a handwritten card from your kiddo.
Coach care package ideas:  For a sweet treat, fill a water bottle with wrapped candies and wrap it all in a box with a lanyard for a bow, a unique clipboard, a personalized coach t-shirt, and a handmade card from your child.
Neighbor care package ideas: Start with a holiday card and cute neighbor ornament and add a batch of cookies or (and?) a bottle of wine. More ideas: fairy lights or candles or garden tools, local chocolates, gift cards to local coffee shops, or a cute keychain.
Hairstylist care package ideas: Say thanks with a card and ornament made specifically for fabulous hairstylists. Doubling the usual tip is the traditional gift for a stylist, but a gift is an appropriate substitute if you know what they like. Consider a box of gourmet chocolates, a bottle of their favorite adult beverage, or a gift card to a nearby lunch or dinner spot.
Delivering Your Holiday Care Package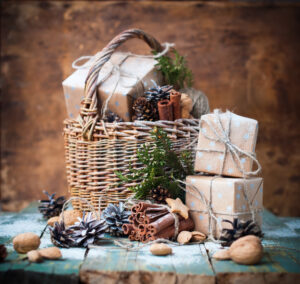 To make sure your gift of Christmas cheer arrives on time, think about where, how, and when to send it.
Where? And how? If you're carrying presents across the street or across town, a festive gift basket, bag, or box stuffed with tissue might be plenty. If you're shipping it across the country or across the ocean, you'll obviously want to package for safety. Think about ways you can make the padding part of the gift: socks, mittens, scarves, wraps and throws all work for cushioning fragile items.
When? Lower your stress level by building buying, baking, packing up, and dropping off into your busy holiday schedule. Check shipping times (along with prices and other info) with your shipper.
Holiday Packages To Lift Spirits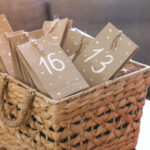 Who doesn't need a little comfort and joy during the holidays? If your loved one is missing someone, has a hall in need of decking, is feeling more stressed out than usual, or could use some holiday cheer, try putting some of these gifts together. You really don't have to spend money to show someone you're there for them, but giving a little gift can mean the world to someone who's having a difficult time. 2020 has been hard on a lot of people. And if we're being honest, sometimes it's just nice to give yourself something sweet, too!
Comfy Cozy Package
Here are some ideas for packing a little extra warmth for someone feeling low:
snuggly socks
hot cocoa mix and marshmallows
cinnamon tea
a cute mug
a holiday-scented candle
a new book
a cozy blanket or wrap
Sweet Holidays Care Package
Remind someone you think they're sweet with sugary surprises:
sugar or gingerbread cookies (or mix) and supplies to decorate them
hot cocoa with candy cane stirring sticks
Christmas candy
peppermint bark
milk-and-cookies-scented candle
Deck the Halls Care Package
Help someone festive-up their office, dorm room, or apartment with some of these (click on the text for the how-to text):
Cheers to Christmas
We call this one the "holiday survival kit": gather the ingredients for a holiday cocktail, a pair of stemless wine glasses, cocktail napkins, crackers or cookies or chocolates or all of the above.
Care packages that say "I get you"
A themed care package is the perfect way to show you truly appreciate your friends' favorite hobbies or interests.
The Happy Hour Pal
For the friend who knows where to get the best cocktails and which restaurant has the best charcuterie platter, bundle their favorites:
a bottle of wine or liquor
charcuterie board ingredients: cured meats and cheeses if you're gifting locally, or gourmet crackers, good jams or
mustards and a jar of olives if you're not
funny cocktail napkins, like these or these or these
The DIY Fan
If you know someone crafty, give a DIY bundle with the supplies to create their own (click on the text for the how-to text):
The Pet Lover
The Cat Mom or Daddy. The Dog Mom or Dog Father. You know them—and their pets. So why not make a care package for both?
pet treats and toys
human treats
matching pet and human outfits
a coffee shop gift card (for a latte and puppacino)
a frame for the kitten or pooch (add a picture you print from their social media account—you
know there are hundreds to choose from)
a cozy blanket to snuggle up in
Fun With the Family
For someone who loves spending time with family or goes on regular road trips, a family-focused care package could win Christmas.
a fun frame for a family picture (add one you find on social media)
a fun family puzzle or game
supplies for decorating sugar cookies or making a gingerbread house (or a kit to do either)
an Advent or countdown calendar
hot cocoa, candy canes for stirring and mini-marshmallows
the link to a family dance party music playlist
The Finishing Touch



Once you've assembled all the items for your Christmas care package, add an extra touch of holiday wonder by arranging and wrapping your package in a festive way, and handwriting your message in a holiday card. You'll end up with a gift that's not only unique but really shows you know someone and care about them.
Originally published on Hallmark ideas and inspiration By Meghan Craig on October 22, 2020
Inspired? Visit https://ideas.hallmark.com/