Do you have a home office or work from home?
A lot of us have been working from home this past year during the pandemic. Have you given any thought to electrical safety in your home workspace (wherever that may be in your home)?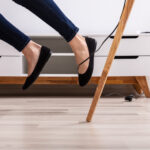 Follow these electrical safety tips to keep you and your home safe from electrical hazards.
Avoid overloading outlets
Unplug appliances when not in use to save energy and minimize the risk of shock or fire
Regularly inspect electrical cords and extension cords for damage
Extension cords should only be used on a temporary basis
Never plug a space heater or fan into an extension cord or power strip
Never run cords under rugs/carpets, doors, or windows
Plugin smartly. Make sure cords do not become tripping hazards
Keep papers and other potential combustibles at least three feet away from space heaters and other heat sources
Make sure you use proper wattage for lamps/lighting
Make sure your home has smoke alarms. Test them monthly, change batteries yearly, and replace the unit every 10 years
Wherever you work, it's always important to be safe. Check out this infographic that outlines more about home workspace electrical safety.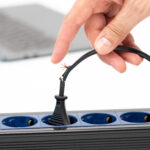 MORE HOME SAFETY PRECAUTIONS
:
Routinely check your electrical appliances and wiring.
Frayed wires can cause fires. Replace all worn, old and damaged appliance cords immediately.
Use electrical extension cords wisely and don't overload them.
Keep electrical appliances away from wet floors and counters; pay special care to electrical appliances in the bathroom and kitchen.
Don't allow children to play with or around electrical appliances, such as space heaters, irons, and hair dryers.
Keep clothes, curtains, and other potentially combustible items at least 3 feet from all heaters.
If an appliance has a three-prong plug, use it only in a three-slot outlet. Never force it to fit into a two-slot outlet or extension cord.
Never overload extension cords or wall sockets. Immediately shut off, then professionally replace, light switches that are hot to the touch, as well as lights that flicker. Use safety closures to childproof electrical outlets.
Check your electrical tools regularly for signs of wear. If the cords are frayed or cracked, replace them. Replace any tool if it causes even small electrical shocks, overheats, shorts out, or gives off smoke or sparks.
If you are experiencing and issues or plan on buying or building a new home hire a certified InterNACHI inspector or licensed electrician. InterNACHI inspectors must pass rigorous safety training and are knowledgeable in the ways to reduce the likelihood of electrocution.
Information courtesy of The Electrical Safety Foundation International (ESFI), is the premier non-profit organization dedicated exclusively to promoting electrical safety at home and in the workplace.
Click here
to learn more about electrical safety at their website.