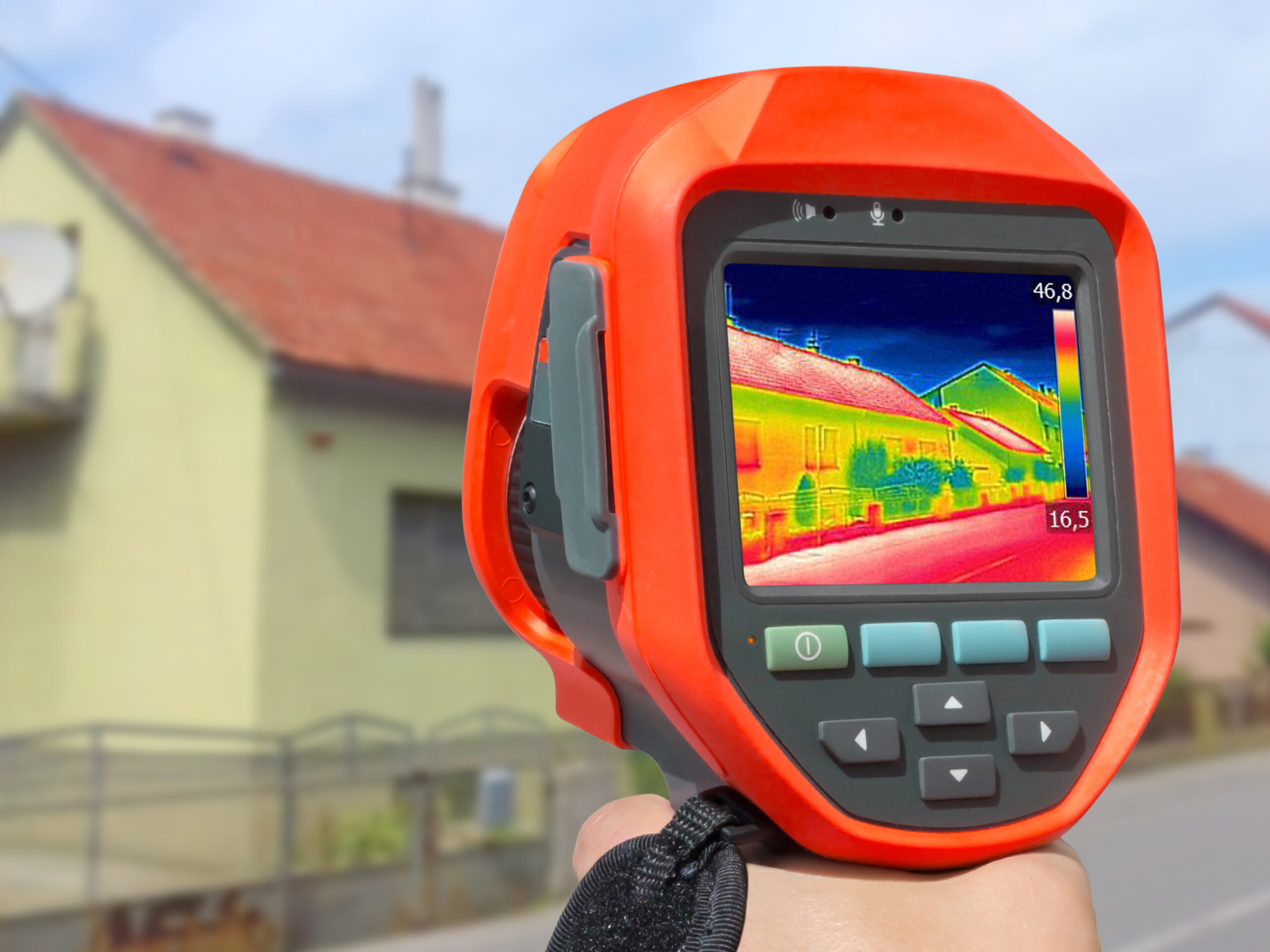 Make Sure Your Property Inspection Includes Infrared Technology
Infrared thermography inspection uses infrared imaging technology that allows SkyTech of New Mexico, Inc. inspectors to point out concerns about a structure that no one can show you using other inspection methods. This infrared imaging produces images of invisible heat energy emitted from objects and systems in the building and allows us to see it in a picture. As we inspect properties in New Mexico, we use infrared technology to find hidden problems that you may not even know about.  This is a non-invasive, non-destruction inspection. Infrared imaging is a limited scan and most home inspectors are not Certified Thermographers, but the inspectors at SkyTech, Inc. are all certified in this technology.
Using Infrared technology to help find hidden damage or moisture can assist you to know hidden damage before you sell your home or detect damage in the home you are purchasing. Home inspections are conducted for many reasons. It is important in both the buying or selling process to know the condition of the property to assure that the sale process goes as smoothly as possible. Of course, not all inspections are the same – some of these inspections are better than the others. SkyTech has almost 20 years of experience and we pride ourselves in providing the most professional, comprehensive, and accurate inspections in New Mexico.
SkyTech uses infrared technology to identify hidden damage or moisture in a property.  This is what every professional property inspection company has in its arsenal of tools and SkyTech of New Mexico is no exception. Infrared cameras detect thermal anomalies that help to determine different temperature levels and convert them into a film or video image. The images are used to interpret moisture, energy efficiency, insulation value, and more. Since infrared is outside of the scope of a normal home inspection, most home inspectors typically do not have the tools, training, or certification to conduct and properly interpret infrared survey images. Infrared technology is standard in a SkyTech of New Mexico residential or commercial property inspection.
Ordinary property inspections where IR devices are not used will determine problems that are visible. With an IR device, you will bring the property inspection to another level and find problems that are not visible to the naked eye. For instance, if you suspect that there is a problem with moisture in your property, but you cannot detect the source, you've got two options – to drill holes in the walls or to use an IR device. Obviously, the latter is preferred. As we all know, moisture can lead to mold and mildew growth, and mold is associated with many illnesses. In addition, mold and mildew can damage the structure of your home. But, moisture issues are not the only thing that you can detect with IR technology. An IR inspection can help property owners detect conditions like unbalanced loads, open circuits, loose connections, overloads, defective equipment, active ceiling stains, collapsed glass, assessment of heated floors, tiles shower leaks, insulation problems, electrical problems, and more. Whether it is a pre-sale property inspection or a buyers inspection, infrared inspections can lower repair costs because you will know exactly where the problem is located.
If you are planning on using property services, make sure that the home inspector uses infrared technology. This is by far the best home inspection in terms of effectiveness and convenience.SkyTech of New Mexico Property Inspectors is offering high-quality IR services to every property owner in New Mexico. The best part is that this activity is part of the regular property inspection.
Contact SkyTech of New Mexico today to schedule an inspection.