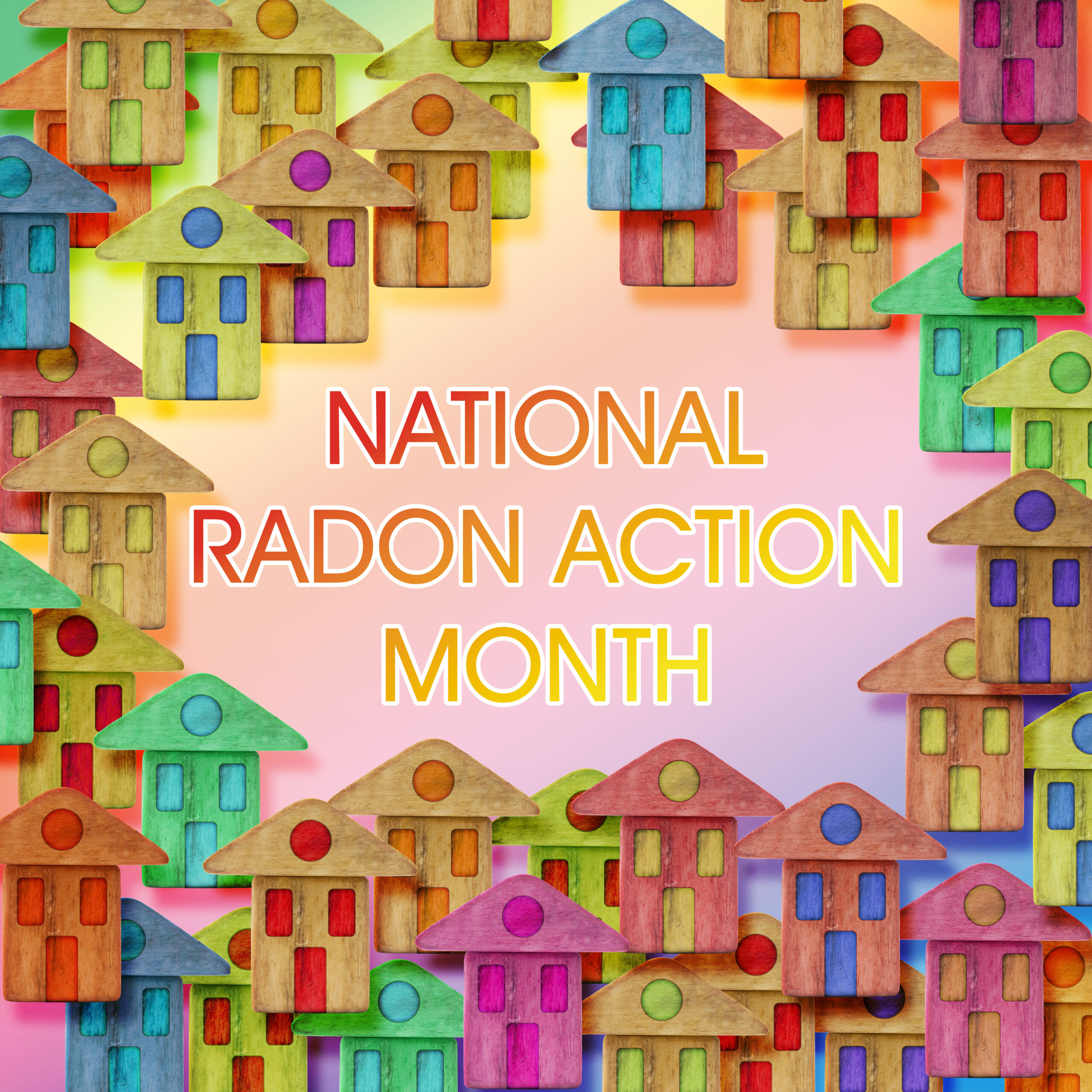 January is Radon Awareness Month.
Areas of New Mexico have significant amounts of radon. SkyTech Of New Mexico would like to spread the word about how important the environment is when it comes to your health. We encourage you to learn more about the potential health effects of radon exposure and how to check your home for this potentially dangerous gas. Since it originated in 1970, Earth Day has served as a platform for education and advocacy efforts in support of a better world, cleaner air, and fresh water. Keeping with the spirit of the observance, we to learn more about the potential dangers of radon exposure and the various ways environmental factors play a role in one's health.
SkyTech of New Mexico is IAC2 certified. We are experienced and qualified to administer radon testing, indoor air quality testing, and environmental testing. We test all types of commercial and residential properties. Not just properties that are being sold or purchased. Properties that are currently occupied (and have been for a significant amount f time) can still have radon issues. Radon testing is a stand-alone service.
Contact us today if you have questions or to schedule a consultation or testing.
Radon is a naturally occurring radioactive gas that can cause lung cancer. You can't see or smell radon. Testing is the only way to know your level of exposure. Radon can have a big impact on indoor air quality. Radon gas in homes is a health risk. Santa Fe County, like Bernalillo and many others, show up on the U.S. Environmental Protection Agency's radon maps as a Zone 1 county. That means homes can have a predicted indoor radon screening level above 4 picocuries per liter, the EPA's recommended safe limit.
Radon is an odorless, colorless, naturally occurring radioactive gas resulting from the radioactive decay of uranium, which exists in most soils. Radon enters homes and buildings from the soil under the slab, from the crawlspace, basement, etc. Radon can also be found in some water supplies entering the home or building. Because radon is radioactive, it's breakdown to other elements releases alpha, beta, and gamma radiations which can be physically damaging. When radon, and especially these decay elements, are inhaled, the lungs can be seriously damaged by this radiation.  Studies have determined that as a result of this damage, radon is the overall second leading cause of lung cancer. Radon is also believed to be the number one cause of lung cancer among non-smokers.
Nearly 1 out of 15 homes in the US is estimated to have elevated radon levels. In New Mexico, the north-central part of the state including Bernalillo and Santa Fe Counties are considered high-risk areas. Up to 30% of homes tested in Albuquerque and 40% in Santa Fe have shown radon levels that exceed the EPA recommended norms.
All houses can have radon; even those in areas of low radon potential can have elevated radon levels. The probability of finding radon in your home is less in low radon potential areas; however, radon levels can differ dramatically from one home to the next. The only way to know if you have radon is to test your home.
Individuals are exposed to elevated radon primarily in indoor environments, homes, offices, schools, etc. Any home or building, old or new, can have a radon problem. The only way to determine if a home or building has elevated indoor radon is to test.
How does radon enter your house? Air pressure inside your home is usually lower than the pressure in the soil around and under your home. Because the pressure is lower inside, radon is sucked into your house through cracks or holes in the slab or foundation. If you have elevated radon levels you can fix your home. If you are building a house in an area of moderate or high radon potential we recommend using radon-resistant building techniques.
The radon in your water supply poses an inhalation risk and a small ingestion risk. Most of your risk from radon in water comes from radon released into the air when water is used for showering and other household purposes. Research has shown that your risk of lung cancer from breathing radon in the air is much larger than your risk of stomach cancer from swallowing water with radon on it.
Radon in your home's water is not usually a problem when its source is surface water. A radon in water problem is more likely when its source is groundwater, e.g., a private well or a public water supply system that uses groundwater. Some public water systems treat their water to reduce radon levels before it is delivered to your home. If you are concerned that radon may be entering your home through the water and your water comes from a public water supply, contact your water supplier.
SkyTech of New Mexico is IAC2 certified. We are experienced and qualified to administer radon testing, indoor air quality testing, and environmental testing. Contact us today if you have questions or to schedule a consultation or testing.
Home Buyers and Sellers can find a comprehensive resource guide put out by the EPA here.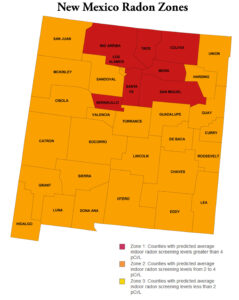 New Mexico Radon Zone Map by county courtesy of EPA
The EPA recommends action be taken to reduce radon levels in homes with
concentrations higher than 4 pCi/L.
(pCi/L = Pico curies per liter)
Contact us today to schedule your radon or other indoor air quality evaluation.
Thank you to these resources for the information found in this article. You can find more information by clicking on these links: